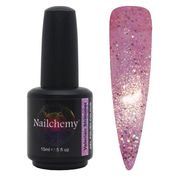 Valerian Shimmer is a beautiful, sheer colour that has pink hues but contains gold and holographic glitter that will add that little something special to any colour it is applied over.
DIRECTIONS:
Apply over Base Coat.
Cure with UV LED Lamp for 30 Seconds.
Apply additional coats until the desired finish is achieved.
Complete with gel polish Top Coat
Remove with Acetone.
Great on its own or used as a base colour for your magical nail art designs