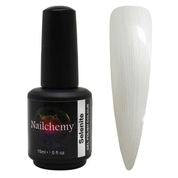 SELENITE
Selenite is a gorgeous shimmery white, almost pearl shade that is perfect for the spring season and it is beautiful when combined with our Velvet Matte.
DIRECTIONS:
Apply over Base Coat and Colour Coat. Cure with LED or UV light.
LED Cure Time - 30 Seconds.
UV Cure Time - 2 Minutes.
Complete with Gel Polish Top Coat.