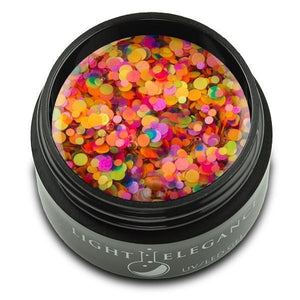 A little Light Elegance color gels to add some extra punch to your summer nails!
Bump, Set, Spike Glitter, UV/LED, 17ml
Light Elegance potted glitter gels are hard gel and cannot be soaked off with solvents. Don't want a permanent hard gel nail? Use a soak-off base under your glitter gel, file through the glitter, and soak off with acetone for easy removal. New colors arrive seasonally.

All glitter gels can be cured in either a CFL (compact fluorescent) or LED UV lamp. These jars are huge! You get 17ml in each jar which means plenty of glitter gel to go around.