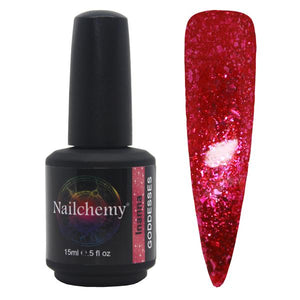 Inanna one of our amazing Goddesses collection, Inanna is a stunning shimmery pink/red metallic beauty.
Inanna was the ancient Sumerian goddess of love, beauty, sex, desire, fertility, war, combat, justice, and political power. She was later worshipped by the Akkadians, Babylonians, and Assyrians under the name Ishtar (/ˈɪʃtɑːr/; Dištar).
She was known as the "Queen of Heaven" and was the patron goddess of the Eanna temple at the city of Uruk, which was her main cult center. She was associated with the planet Venus and her most prominent symbols included the lion and the eight-pointed star. Her husband was the god Dumuzid the Shepherd (later called Tammuz) and her sukkal, or personal attendant, was the goddess Ninshubur (who later became the male deity Papsukkal).
DIRECTIONS:
Apply over Base Coat. Cure with LED or UV light.
LED Cure Time - 30 Seconds.
UV Cure Time - 2 Minutes.
Complete with Gel Polish Top Coat/Non-Wipe Top Coat.