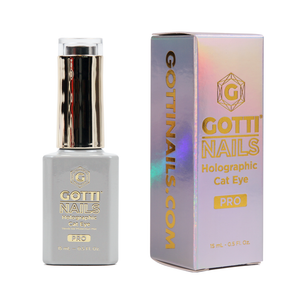 Introducing the first of its kind a holographic cat eye topper. Apply it on top of your favorite Gotti Gel Color and achieve a whole new look. This premium top coat has light grey coated bottle to easily identify that it is our Holographic Cat Eye. Built in magnet inside the color indicator. No more losing your magnets when doing cat eye!
Having the versatility as a topper allows the nail tech to change up any color with limitless possibilities. Your traditional Cat Eye has a full coverage affect not allowing colors to show through.
We decided to coat the bottle a different color, so as distributors the top coat doesn't get lost with the rest of our colors. Same goes for nail techs when they are rushing from client to client.
The built-in magnet makes things simple and one less thing to worry about. Achieving cat eye is now at your fingertips. Oh yeah, its also a top coat. :D