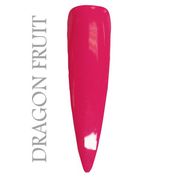 Dragon Fruit - Forbidden Fruits Collection
Dragon Fruit is an amazing neon pink colour gel polish. A must-have colour in your Nailchemy® collection. A perfect colour for the summer and beyond.
DIRECTIONS:
Apply over Base Coat.
Cure with UV LED Lamp for 30 Seconds.
Apply additional coats until the desired finish is achieved.
Complete with gel polish Top Coat
Remove with Acetone.