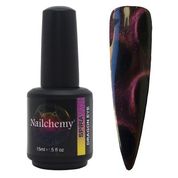 Spira has an amazing shift from Yellow through to Pink, the effects that are achievable with this magnetic gel polish are amazing.
DIRECTIONS:
 Apply over Base Coat and ONYX.
Use magnets to create desired effect.
Cure with UV LED for 30 seconds.
Complete with Gel Polish Top Coat/Non-Wipe Top Coat.
Remove with acetone.