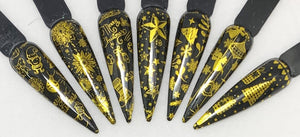 Profiles Backstage brand of nail foils--10 pcs. of ultra thin easy to transfer nail foils in convenient plastic container. All different types of Christmas patterns.
TIPS FOR PERFECT FULL TRANSFERS..
If you are looking for a perfect design to transfer we suggest using the potted stick-it! This OG formula is unlike any bottled version out there!
The quick stick-it! is great for quick easy transfer foils with color splotching or random patterns that don't need to transfer perfectly, but is a bit more finicky than the potted version.
The Black Stick-it! is also a great choice for perfect design transfers that require a black background or for painting and enhancing designs since its smooth viscosity won't run or spread.